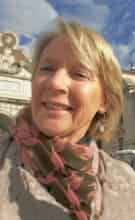 Leena
Age: 63
Nationality:
Specialization: art, art-history, roman empire and storytelling about the emperors, the vatican museum, renaissance, the italian lifestyle
Experience: 1 - 3 years
Languages: Spanish, Italian, Finnish, English
Description
I am Leena, and I work with tourism since 1990's. I was born in Finland, married in Italy and lived many years right in the heart of Rome. Italy's incredible history, the Emperors, the popes, the Renaissance and Baroque art really fascinates and excites me - how the ancient Romans lived, the rice and fall of the Empire, the wicked stories about the mad Emperors. And the passionate art-stories of the great masters like Michelangelo, Raphael...Caravaggio. My challenge will be to describe you...

3 tour per il 17/08/2022